THE FORMATION AND DEVELOPMENT
1/- Establishment.
The Company was formed since 1960 in Saigon. It only produced medicine small bottles and syringes for domestic market.
2/-Development.
In 1985, our company had been changing to produce glass tablewares in colors and clear.
We have been exporting our products to the world since 1993. Then till now, our exporting volume has been increasing gradually and reached to 2,000,000 USD in recent years.
We now have nearly 2000 designs and mainly serve to Europe Market such as Germany, France, Italy, Holland, Sweden,…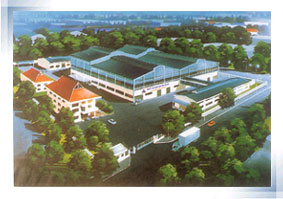 MAIN PLANT
3/-The formation.
The time from establishment till before 1975, the company was the private company.
Since 1975 to 1998, the company was The State Owned Factory. Till 1999, the company had been apportioned.
After apportioning, the company has been formed as the joint stock Company without any state owned share.
4/- Business Field.
We are licensed mainly to produce all kinds of glassware. Besides that, we also do trading, importing-exporting glass, ceramic, chemicals, and machines for glass producing and general services related in Vietnam and worldwide.
THE PRODUCTION : PRODUCTION SYSTEM & METHOD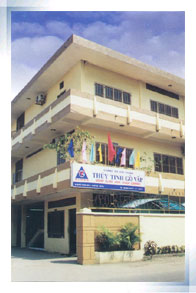 HEAD OFFICE
26 Nguyen Thuong Hien Str. – 1st Ward
Govap Dist. – HO CHI MINH CITY – Vietnam
1/-Production System.
a/- Simple Outline of Production System.
– Furnace: Bath Furnace
– Forming : semiauto press machine – blow press machine – blow mouth forming.
– Lehr: 24metters long, temperature is about 500°C.
– Inspection and packing: quality control, packing.
b/- Material: Sand + chemical and recycle glass.
c/- Capacity: it is about 12-16ton glass per day. It is going to be 20 ton per day in September 2001.
2/- Production Method.
a/- Froming products by moulds.
b/- Method of producing: using both semiauto press machines, blow press machine and blow mouth.
PHOTOS of PRODUCT LINE
1/-Glass jar
2/-Containers. (bottles, jars, cosmetics containers…)
3/-Tablewares. (vases, dishes, bowls, glasses, wine glasses, candleholders, flower pots,…)
4/-Decorated glassware. (with fern, seagrass, bamboo, rattan, frosted, grinding, printing, paiting….)
Thủy tinh handmade
Là một trong những nhà máy sản xuất thủy tinh lâu năm nhất ở Việt Nam, được thành lập từ năm 1960.
Chuyên sản xuất thủy tinh xuất để xuất khẩu đến thị trường Châu Âu.
Hiện nay có khoảng 3.000 mẫu thủy tinh các loại, đa số là thủy tinh dùng cho việc trang trí và được sản xuất bằng phương pháp thổi thủ công. Phương pháp được tiếp cận từ Châu Âu
Thủy tinh đa dạng về chủng loại, kích thước và màu sắc. Các màu phổ biến của thủy tinh như xanh lá, xanh biến, xanh ngọc, màu cam, tím.
Thủy tinh màu: Bên cạnh thủy tinh màu còn có 1 dòng thủy tinh phủ màu theo yêu cầu dùng để trang trí như màu đỏ, cam, tím, vàng…….
Sỏi thủy tinh: Ngoài thủy tinh trang trí còn có sỏi thủy tinh với nhiều kíck thước khác nhau và nhiếu màu sắc như : như xanh lá, xanh biến, xanh ngọc, xanh navi, màu đỏ, cam, tím, đen , vàng,nâu … hỗ trợ cho việc trang trí thêm sống động.
Cát màu: Cát màu cũng đa dạng về màu sắc, mịn, sạch và bền màu
Thợ thổi thủy tinh: một số được đào tạo tại nước ngoài, một số thợ cả có kinh nghiệm lâu năm.
Với phong các trang trí hiện đại như hiện nay, Thủy Tinh handmade cũng là một lựa chọn để góp phần hỗ trợ trong việc trang trí không thể bỏ qua.